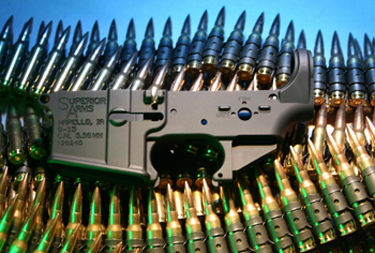 Superior Arms, Inc., based in Wapello, IA, is one of America's pre-eminent custom gun manufacturing facilities. Superior Arms, owned by Terry, Jim and Leo Williams, is recognized for the exceptional quality, craftsmanship and precision in firearm manufacturing. We believe that MADE IN THE USA is more than just an advertising slogan, it is a core management principal. Superior is proud to say that every item in our standard products is made in the USA. We provide customized service and delivery schedules, and our track record is without equal.
Superior's Quality Plan conforms to all points of ISO 9001:2000, MIL-I-45208, and MIL-Q-9858A. Seeking constant improvement is a hallmark of Superior Arms machinists and engineers. This philosophy is demonstrated throughout our entire business. We machine and manufacture on-site and are committed to producing precise, quality parts. Our technologically advanced engineering department allows us to design and prototype specific products based upon customer specifications.
Our strength lies in our superior quality and our extensive manufacturing assets. Superior's 15,900 square feet of manufacturing space is dedicated to manufacturing AR-15\M-16 style weapons. Our depth of experience, specialization, and sophistication allows us to control quality in ways that other manufacturers are unable to match. Superior's vast selection of manufacturing processes performed on site is virtually unmatched in the AR-15/ M-16 Industry.
Our drive for a higher level of customer satisfaction has enabled us to develop the strongest links with the most professional and forward thinking customers within the industry. As the marketplace changes, we work to ensure that our customers are offered state-of-the-art solutions for their business demands.